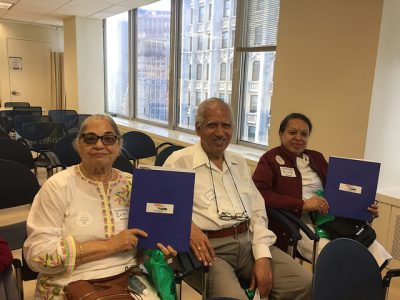 May is Older Americans Month – an observance that is led by the Administration on Aging, part of the Administration for Community Living (ACL). The theme for 2018 is ENGAGE AT EVERY AGE, which celebrates the way in which older adults make a difference in our communities whether it is by volunteering at hospitals, senior centers, marching in a rally or babysitting their grandkids. The slogan is also a reminder that you are never too old (or young) to take part in activities that enrich one's physical, mental, and emotional well-being.
At India Home our elders have been immersed in a great number of events that have kept them happy, and yes, engaged at every age!
1. May 9: Advocating for all elders at City Hall
On Advocacy Day 2018, organized by LiveOn NY, our elders made a show of strength at City Hall to advocate for more funding in the budget for cultural congregate meals, case management, hiring culturally competent staff, transportation and a host of other needs.
2. May 10: Our "Memoirs and Moments" writing workshop ended with a public reading!
Our Bengali Muslim elders at Desi Senior Center have been writing memoir pieces in a writing workshop for the last eight weeks. They celebrated their efforts and their writing with a reading. The writers read about beloved objects, loved ones, childhoods in Bangladesh and the pieces were beautiful and poignant. There was cake to celebrate and hugs all around.
3. May 14: Mother's Day Celebrations
We celebrated India Home's mothers and grandmothers with gifts, cake, musical interludes and a big, fat party!
4. Dance theater workshops continue at a vigorous pace
India Home's elders at our Sunnyside center are having a great time working with Teaching Artist Parijat Desai in dance theater workshops that combine garba and abstract movement, with their own individual stories.