By Nibras Karim, Hunter College Asian American Studies Program Intern
The Captain Tilly Park in Jamaica, is named after Captain George H. Tilly who was a local son of a prominent Jamaica family who was killed while fighting in the American war in the Philippines in 1899. The park is a local destination for Jamaica residents to relax and enjoy public space and greenery in their neighborhood. Situated on nine acres, the park is in the heart of Jamaica and a peaceful getaway from the hustle and bustle of the city.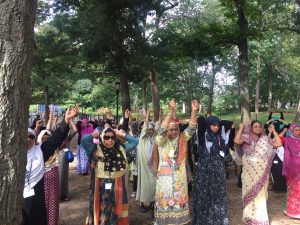 On September 21, 2017, as part of our effort to help with the health, fitness, and mental wellbeing of the seniors of our Desi Senior Center, we took them out for a change of environment and had them try some new activities they hadn't done before. The seniors really enjoyed the scenery that the Captain Tilly Park had to offer such as the ducks and Canadian geese swimming about. They also enjoyed the picnic we had brought. They did their exercises outside and enjoyed the fresh air.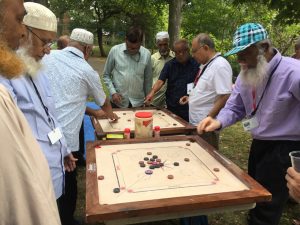 One highlight of the day was when they played games like carrom board and ludu. Carrom is a  "strike and pocket" table game similar to billiards. Instead of using cue sticks and billiard balls, carrom is played by using different sized and colored pieces called carrom men. Some of the seniors were very passionate about winning the carrom board games. Prizes were given out to the winners of the games.
After they ate their picnic, they sang Bengali folk songs, solo and in chorus with others. Everyone was very supportive of each other regardless of their singing abilities. In the end of the picnic, all the seniors thanked the director of our Desi Senior Center Dilafroz Nargis Ahmed for making this wonderful picnic a possibility.