[social_share/]
Washington D.C –  On April 21, 22, and 23, India Home participated in the 2017 South Asian Americans Leading Together (SAALT) Summit in Washington D.C.  Deputy Director, Lakshman Kalasapudi and Afroditi Shah Panna, Case Manager, joined over 300 activists, organizations, students, and community members from across the country who had come together to raise their voices on a range of issues important to South Asian communities.
Suman Raghunathan, Executive Director of SAALT, explained the thinking behind the Summit: "Our communities continue to live in various states of shock as a panorama of hate violence, civil rights violations, and anti-immigrant policies continue to impact South Asian Americans nationwide."  At this challenging moment, she said, South Asians were engaged in a "critical struggle for justice and full inclusion for all."
"Disrupting Silos: Combating Ageism and Xenophobia"
The panel organized by India Home was one of 40 sessions at Trinity Washington University on urgent issues facing the South Asian community. The panel, titled,  "Disrupting Silos: Combating Ageism and Xenophobia,"  brought together community groups and advocates from New York City, the Bay Area, and Texas to discuss how they had organized and championed programs and services for South Asian older adults.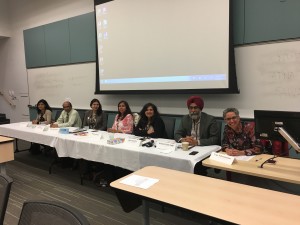 The community groups – spanning different nationalities, ethnicities, faiths, languages, and income levels – presented information on best practices gleaned from working in the trenches with their respective communities. They used the forum to share perspectives; discuss strategies for and partnerships that led to successful aging programs; tools to fight xenophobia and ageism and methods to address the unique challenges they and the communities they serve are facing with a new administration in place in Washington.
The panelists were:
Vega Subramaniam, Moderator (Contributor, Diverse Elders Coalition)
Shubhada Saxena (South Asians' International Volunteer Association (SAIVA)
Asha Chandra (City of Fremont Human Services Department)
Kashmir Singh Shahi (Gurdwara Sahib Fremont)
Shah Afroditi Panna (India Home, Inc.)
Vishnu Mahadeo (Richmond Hill Economic Development Corporation (RHEDC)
Shaista Kazmi (Apna Ghar, LLC)
Valuable perspectives on aging South Asians
They brought valuable perspectives on aging South Asian communities across the US, from Punjabi Sikhs in California to Indo-Carribeans in New York's Richmond Hill. They told stories and related experiences. Afroditi Panna, a Case Manager with India Home, discussed the needs of aging adults in the Bangladeshi community. For example, many elders suffer from a lack of space and privacy because they live with adult children who cannot afford big apartments. Armed with this real life understanding and stories of the conditions these elders live in, India Home finds itself in a better position to advocate for more affordable housing, she said.
Shaista Kazmi, of Apna Ghar, an organization that provides caregiving facilities for South Asian seniors, spoke about the stresses on the so-called "sandwich generation" – second generation South Asians, many of whom lack extended family networks in America–who end up taking care of their own kids, as well as aging parents. The need for culturally competent caregivers is on the rise and it was important that these caregivers and home health aides not only be made aware of the fact that elder abuse exists in all communities, but that they are also trained to become "advocates for victims of elder abuse."
Vishnu Mahadeo, who works closely with the Indo-Carribean community in New York city, spoke about the reliance among aging Indo-Caribbeans on over-the-counter drugs because they lack proper health insurance.
Kashmir Singh Shahi of Fremont Gurdwara Sahib urged  South Asian communities to pay attention to senior issues and make them part of the conversation. The fact that sometimes older adults are neglected or their problems go unaddressed is also elder abuse, he said.
The panel strongly felt that community members needed to become part of the civic process in their cities, as a step toward drawing attention to the needs of South Asian seniors. Advocating for culturally appropriate services, getting more direct services, and casting a wide net to reaching South Asian elders  in places beyond temples and gurdwaras was becoming more urgent with the increases in the population of elderly South Asians. "In order to build a system, we have to be part of the system," Kashmir Singh Shahi said. Asha Chandra, who is a manager in the City of Fremont Human Services Department, brought another perspective when she described the volunteer efforts of older South Asians in Fremont.  "It's a win, win, win," she said, "when seniors step up to work with city services."
On the evening of April 22, Afroditi Panna and Lakshman Kalasapudi of India Home participated in the South Asian Americans Marching For Justice event, a rally that began at Freedom Plaza and concluded with a march to the White House. They joined hundreds of other activists who marched for "a socially just country," and demanded the support of policymakers towards that vision.
"Bringing aging issues to the forefront of the policy and advocacy agendas of our community is crucial to advance our communities equitably," says Lakshman Kalasapudi of India Home's participation in the SAALT summit.