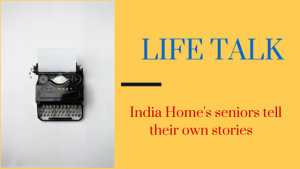 In this regular feature we interview our seniors for insights into the life they've lived. This month we talked to Mr. T.D. Chawla.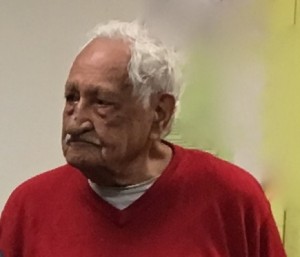 T.D. Chawla is 98 years old. Yes, two years short of a century. He has experienced some of the great historical events of the past years : the British Raj, the Partition of the Indian sub-continent, the World wars. Not as a mere spectator, watching the caravan of history pass by, but as someone who has lived it, been caught up in its dusty wake. He was one of the millions displaced by the Partition in 1947, when the British divided the subcontinent into India and Pakistan. India Home talked to him recently.
On his experiences during Partition
I lived in Pakistan, in the Punjab side and we were all kicked out. People lived in villages, then the Partition happened and people were on their own. We had to leave. We left everything and thank god our life was saved. I went to the district office and I met the District Commissioner and said, "I'd like to stay in Pakistan." Everyone wants to stay in their own home's even if it's a hut.
The District Commissioner said, "I can't guarantee your life. Look here," he said. He pointed to man with torn clothes.  "This man, he was the magistrate of Jullunder."
There was no choice. So I told him I wanted to be evacuated with my family.
We were in a camp at the border (between India and Pakistan). At midnight, they came and said, you have to leave for India.
You cannot imagine so many women were kidnapped, so many men were butchered. Thousands of people lost their lives. I came to India on the goods train. So many of my friends were butchered. People killed their own ladies. So many sad stories.
On his career in the Foreign Service
I came to India and wanted to appear in the civil services exam. Fortunately I got a chance and could move abroad. I was an official in the Indian embassy. My first posting in 1950 was Holland. If a man has first, second, third wife, he will always have best memories of the first one. Same thing with me. My first posting was in Holland! I had never left the country. I loved it. I must have been somewhere around 30 years old, maybe.  There were no airlines, so we went by boat. It took 14 days from India and I went to Marseilles, in France, and then I went to Paris and took the train to Holland.
I was surprised by the development there: the streets, the cars. People were so nice. I was posted to the External Affairs Ministry in 1964. I was in countries in Africa, Holland, Pakistan working in the Indian Embassies.
On his love of India
"Swarg se bhadkar apna desh" (One's country is greater than heaven). I'm attached to India. I go in the winter to Delhi. People say, "You are going to India alone?" And I say, "I'm not alone, God is with me." I go to my daughter. She takes so much care of me. When I am in the USA, she calls me every day. Did you eat? Take your medicine? For the last 52 years I'm going back and forth.
On the secret of his energy
I am settled here and in India. I'm busy. I live with my son who is divorced. I get up in the morning, I have a shower and breakfast, go to the library, meet my friends, go home eat dinner, watch TV—especially Jeopardy and Wheel of Fortune. I read the news every day, from all over India and abroad. I go to the library and read the Wall Street Journal and the New York Times. I take public transport, buses and trains all by myself. I go to the Arya Samaj.
On India Home
I like coming to India Home's centers—there are so many activities. You are all working so hard. I see you all working all the time.