India Home has partnered with Jamaica Muslim Center and several local officials to open a brand-new Desi Senior Center. Launched on December 1st, the center already sees over 100 seniors each day, a highly diverse group of people. This is now the largest three day single site for South Asian seniors, providing a very necessary service to a large demographic within New York City's cultural landscape
Funds for this program come from Councilman Rory Lancman of Queens, whose district has one of the largest South Asian population in New York City. He has been incredibly supportive, recognizing the need for culturally sensitive senior care. "Providing accessible, culturally significant activities for all of our residents is of the utmost importance to me," said Councilman Lancman. "I hope this program only grows from here."
The Councilman was joined by other officials at the launch on December 1st, including Assemblyman David Weprin (D-Queens). In addition, leaders from the Jamaica Muslim Center, including its director, Imam Shamsi Ali, president, Dr. Mohammed W. Rahman, and general secretary, Mohammed Akhter Hussain.
India Home is grateful for the support of all these partners in its largest endeavour yet, with a center open three days a week, offering culturally relevant services to these seniors. Programs are conducted mostly in Bengali, with a variety of activities for the seniors on a day-to-day basis. As Mohammed Akhter Hussain of the Jamaica Muslim Center stated, "The Desi Senior Center will focus to improve and maintain the functioning level of our seniors through approaches that will address the needs of the body, mind and spirit. Our objective is to assist seniors in maintaining their independence for years to come." With two new staffers, a range of projects for the seniors to participate in, and a new halal food service provided by India Home, the Desi Senior Center promises to be the first of its kind, and demonstrates a potential for expansion. Like Councilman Lancman, we hope it only grows from here!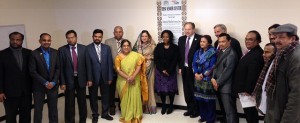 Please see the official press release here:
***PRESS RELEASE***
For Immediate Release
December 1, 2014
Contact: Ari Saati
518-588-9279
COUNCILMAN LANCMAN ANNOUNCES OPENING OF CITY'S
LARGEST THREE-DAY, SINGLE-SITE SOUTH ASIAN SENIOR CENTER
Councilman Rory I. Lancman (D-Queens) announced the opening of the "Desi Senior Center" at the Jamaica Muslim Center, New York City's first senior facility to serve the South Asian community three days a week at a single location. Born out of a $100,000 grant from Councilman Lancman's discretionary funds, the center will provide culturally relevant programming and daily meals adhering to cultural dietary restrictions.
Councilman Lancman's district has the largest Bangladeshi population in New York City and is home to over 23,000 residents of South Asian descent, creating an incredible demand for a program of this kind. The Desi Senior Center, operating in collaboration with India Home, is the first expanded program of its kind, offering activities like exercise classes, lectures, arts & crafts and special celebrations.
"I am proud to announce the opening of the Desi Senior Center, a program that will positively impact the lives of so many area seniors," said Councilman Lancman. "Providing accessible, culturally significant activities for all of our residents is of the utmost importance to me, and I hope this program only grows from here."
"Senior centers play an important role in helping aging adults stay active and social," said U.S. Rep. Grace Meng (D-Queens). "I am happy to support the creation of this new service, and I thank Councilman Lancman for providing funding for it. It will be a valuable resource for older adults in our borough's South Asian community, and I look forward to advocating for more. Seniors in Queens' South Asian community are entitled to receive greater access to programs and services, and we will work to help make that happen."
"I am thrilled that there will be a senior center in this community," said Assemblyman David Weprin (D-Queens). "I commend Councilman Lancman for having secured the City Council funding, and of course, the members of the Jamaica Muslim Center for opening their doors to provide a vital service for our senior citizens. This success is a yet another example of how community leaders and local government can work together to create lasting value for our neighborhoods."
"I am happy to see this program up and operational for Queens' South Asian seniors," said Senator-Elect Leroy Comrie (D-Queens). "This facility is a testament to what can be achieved through positive community collaboration, and I thank all of our public and private partners for bringing the Desi Senior Center to fruition. I look forward to more expanded centers like this in our region."
"As our city's senior population continues to rapidly grow, it's vital to make sure that older New Yorkers from all ethnic groups have access to services and programming that meet their cultural needs," said Council Member Margaret Chin (D-Manhattan), chair of the City Council's Committee on Aging. "By specifically serving Queens' South Asian community, the new Desi Senior Center represents a step forward in making this a city where seniors of all cultural backgrounds can comfortably and securely age in place. I thank and congratulate Council Member Lancman for his important work in providing funding and working closely with his community to open this new center."
"Having a senior center for our community was always just dream for us," said Dr. Mohammad W. Rahman, President of the Jamaica Muslim Center. "We are incredibly proud to have this center operational in the Jamaica Muslim Center, serving our South Asian community. Seniors are the foundation of our community and serving them properly is making us all stronger. I would like to thank our local politicians, India Home and all the members of our center and congratulate the leaders in our community who are behind this."
"I am delighted to have a senior center for our elders where they can have health education, checkups, exercise programs and other activities," said Dr. Mohammad M. Rahman, Chairman of the Jamaica Muslim Center. "Our religion and tradition teaches us to take care and respect our seniors; Jamaica is a vibrant community and the Jamaica Muslim Center is a perfect place for them. As a physician and expert in geriatric medicine, I feel it will help our seniors physically and emotionally. I wish every success of this initiative and Jamaica Muslim Center management will offer all support so it can run smoothly."
"I am truly happy to see this happening in our community," said Imam Shamsi Ali, Director of the Jamaica Muslim Center. "Taking care of our elders is particularly commanded in the Holy Qur'an. This entire process has enabled the Jamaica Muslim Center to positively collaborate with other communities, particularly the South Asian community, which has been eye opening and productive. This indicates that the Jamaica Muslim Center presents itself as an inclusive community center, serving not only Muslims and but its non-Muslim neighbors. I thank my great friend, Councilman Lancman, for making this center possible in our community. The Jamaica Muslim Center is looking forward to working with the Councilman on many more projects."
"Thanks to the tireless efforts of Councilman Rory Lancman, we are now able to open a senior center that provides essential services and addresses the specific needs of our community. The Desi Senior Center has been years in the making, and I want to thank all of our community and government partners for finally making it a reality," said Mazeda A. Uddin, Senior Task force Advisory Chair of the Alliance Of South Asian American Labor.
"The Jamaica Muslim Center is ushering in a new chapter of community service with the generous help of Councilman Rory Lancman," said Mohammed Akhter Hussain, General Secretary of the Jamaica Muslim Center. "It is a dream come true for the Jamaica Muslim community. The Desi Senior Center will focus to improve and maintain the functioning level of our seniors through approaches that will address the needs of the body, mind and spirit. Our objective is to assist seniors in maintaining their independence for years to come."
"Starting this Desi Senior Center is India Home's foray into serving the greater South Asian senior community, and we are thrilled to be able to provide culturally appropriate services like our new halal food service," said Dr. Vasundhara D. Kalasapudi, Executive Director of India Home. "We are thankful to Council Member Rory Lancman for securing the funding for this trice weekly program in one location."